Visiting your dentist for specific appointments like clear braces or getting a cavity filled won't always follow the same schedule. Your bi-annual cleaning and exam, though, will likely follow similar steps each time.
These 6-month appointments typically follow a similar pattern of a dental exam and cleaning. During your 6-month dental exam, you'll likely go through the following: a physical exam, cleaning, and if necessary, X-rays.
It's important to note that the guidelines set out by the CDA surrounding the recommended 6-month appointments are only minimums. Your dentist takes your particular needs and oral health into account when making their recommendations.
How Often Should You Get a Dental Exam?
If your dentist doesn't recommend a different schedule, they will likely adhere to the CDAs recommendation of a dental exam and professional cleaning every 6 months. Other things that could affect how often you should see your dentist for an exam and cleaning may include:
Oral health: Your oral health and personal oral hygiene could affect how often your dentist recommends you come back. The minimum recommendation for oral hygiene is brushing twice daily for 2–3 minutes, at least 30 minutes after eating. Additionally, you should floss at least once. Mouthwash can be a good addition to brushing and flossing but cannot replace them.
Diet: Any medical expert will advise a healthy, balanced diet for general good health. Consuming a lot of sugary foods or drinks or sticky and hard snacks can increase your risk of tooth decay. In some cases, including these things in your diet could result in tooth damage.
Smoking: The evidence for the negative health effects that smoking has on our bodies isn't new, and the CDC estimates that over 40% of adult smokers have untreated tooth decay. Additionally, other risks, such as oral cancer, periodontal disease, or other oral problems, go up.
Overall health: It may seem strange that your mouth health is connected to your body in many other ways, but studies confirm this is a fact. Poor oral health can have connections to things like heart disease, pregnancy complications, or diabetes. Your dentist may recommend more frequent visits based on more than just your mouth because of these connections.
What to Expect at Your 6-Month Dental Exam
There isn't a way to predict exactly how each dental exam and cleaning appointment will go. Each dentist may do things slightly differently, and your individual oral health could change the process too. But there will be a few key things to expect.
Physical Exam
During the physical exam portion of your appointment, your dentist takes a close look at your mouth and teeth. They're typically looking for things such as broken or damaged teeth, cavities or tooth decay, or signs of gum disease. In addition to these specifics, your dentist could be looking for signs of oral cancer or anything else that looks abnormal.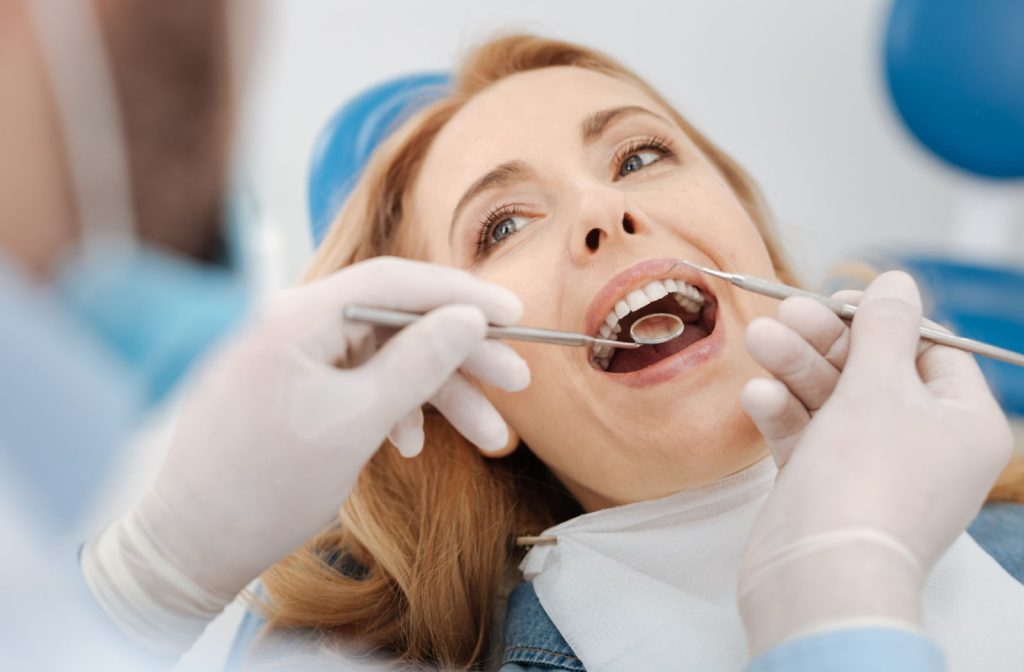 Professional Cleaning
After the physical examination of your teeth, a dental hygienist is usually the next person that works in your mouth. They use a combination of professional training and tools to clean your mouth. How diligent you are with your personal hygiene routine is a significant factor in how much cleaning you may need and how long this may take.
The hygienist usually starts by removing plaque and tartar with a tool called a scaler. This helps them remove buildup from your teeth and around your gum line. With the plaque and tartar removed, the hygienist can use gritty toothpaste to polish each tooth.
One thing to note is that this is not the type of cleaning you would perform every day as it would eventually affect the enamel on your teeth. But a professional cleaning 2 times a year with an exam can help keep your mouth clean and healthy.
X-Rays
A dental X-ray allows the dentist to get a better look at potential jaw problems or developing tooth decay below the gum line. Your dentist may recommend X-rays if they suspect there could be unseen problems.
Why Are Dental Exams Important?
Regular dental exams are a significant form of preventative dentistry. By seeing your mouth every 6 months, your dentist can look for signs of gum disease, tooth decay, or other problems before they develop and require major treatment.
Additionally, your dentist may be qualified to perform various treatments; ranging from cosmetic teeth whitening to a root canal for a damaged tooth—And a dental exam can certainly be one way your dentist realizes you need dental work done.
Discuss Your Next Exam at Skypointe Dental
Before a dentist can make any specific recommendations on exam frequency or special care instructions, they need to physically examine your teeth and mouth. Give us a call today at Skypointe Dental in NE Calgary. Our friendly staff can answer all your questions and book you in to see one of our dentists.
Don't forget to ask us about a $1 dental exam!