Visiting your dentist for specific appointments like clear braces or getting a cavity filled won't always follow the same schedule. Your bi-annual cleaning and exam, though, will likely follow similar steps each time.
These 6-month appointments typically follow a similar pattern of a dental exam and cleaning. During your 6-month dental exam, you'll likely go through the following: a physical exam, cleaning, and if necessary, X-rays.
It's important to note that the guidelines set out by the CDA surrounding the recommended 6-month appointments are only minimums. Your dentist takes your particular needs and oral health into account when making their recommendations.
How Often Should You Get a Dental Exam?
If your dentist doesn't recommend a different schedule, they will likely adhere to the CDAs recommendation of a dental exam and professional cleaning every 6 months. Other things that could affect how often you should see your dentist for an exam and cleaning may include:
Oral health: Your oral health and personal oral hygiene could affect how often your dentist recommends you come back. The minimum recommendation for oral hygiene is brushing twice daily for 2–3 minutes, at least 30 minutes after eating. Additionally, you should floss at least once. Mouthwash can be a good addition to brushing and flossing but cannot replace them.
Diet: Any medical expert will advise a healthy, balanced diet for general good health. Consuming a lot of sugary foods or drinks or sticky and hard snacks can increase your risk of tooth decay. In some cases, including these things in your diet could result in tooth damage.
Smoking: The evidence for the negative health effects that smoking has on our bodies isn't new, and the CDC estimates that over 40% of adult smokers have untreated tooth decay. Additionally, other risks, such as oral cancer, periodontal disease, or other oral problems, go up.
Overall health: It may seem strange that your mouth health is connected to your body in many other ways, but studies confirm this is a fact. Poor oral health can have connections to things like heart disease, pregnancy complications, or diabetes. Your dentist may recommend more frequent visits based on more than just your mouth because of these connections.
What to Expect at Your 6-Month Dental Exam
There isn't a way to predict exactly how each dental exam and cleaning appointment will go. Each dentist may do things slightly differently, and your individual oral health could change the process too. But there will be a few key things to expect.
Physical Exam
During the physical exam portion of your appointment, your dentist takes a close look at your mouth and teeth. They're typically looking for things such as broken or damaged teeth, cavities or tooth decay, or signs of gum disease. In addition to these specifics, your dentist could be looking for signs of oral cancer or anything else that looks abnormal.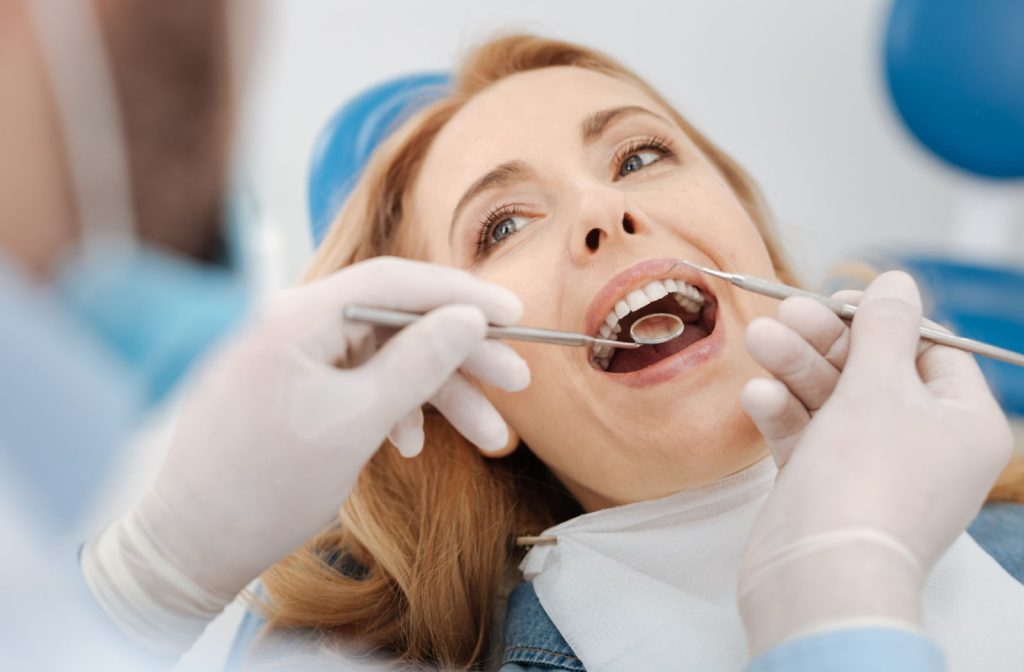 Professional Cleaning
After the physical examination of your teeth, a dental hygienist is usually the next person that works in your mouth. They use a combination of professional training and tools to clean your mouth. How diligent you are with your personal hygiene routine is a significant factor in how much cleaning you may need and how long this may take.
The hygienist usually starts by removing plaque and tartar with a tool called a scaler. This helps them remove buildup from your teeth and around your gum line. With the plaque and tartar removed, the hygienist can use gritty toothpaste to polish each tooth.
One thing to note is that this is not the type of cleaning you would perform every day as it would eventually affect the enamel on your teeth. But a professional cleaning 2 times a year with an exam can help keep your mouth clean and healthy.
X-Rays
A dental X-ray allows the dentist to get a better look at potential jaw problems or developing tooth decay below the gum line. Your dentist may recommend X-rays if they suspect there could be unseen problems.
Why Are Dental Exams Important?
Regular dental exams are a significant form of preventative dentistry. By seeing your mouth every 6 months, your dentist can look for signs of gum disease, tooth decay, or other problems before they develop and require major treatment.
Additionally, your dentist may be qualified to perform various treatments; ranging from cosmetic teeth whitening to a root canal for a damaged tooth—And a dental exam can certainly be one way your dentist realizes you need dental work done.
Discuss Your Next Exam at Skypointe Dental
Before a dentist can make any specific recommendations on exam frequency or special care instructions, they need to physically examine your teeth and mouth. Give us a call today at Skypointe Dental in NE Calgary. Our friendly staff can answer all your questions and book you in to see one of our dentists.
Don't forget to ask us about a $1 dental exam!
If you're experiencing swollen and bleeding gums, you're likely experiencing the leading cause of these symptoms—gum disease. Fortunately, gum disease isn't an all-or-nothing condition, and it increases in severity as it progresses. So, the earlier a dentist detects signs of it, the easier it could be to treat.
And with early detection, it's possible to reverse some of the effects of gum disease without extreme treatment measures. Regular dental exams are one of the best ways of staying on top of your oral health, including catching gum disease early. Ultimately gum disease can cause serious health problems unrelated to your mouth, which we'll cover below, so prevention or rapid treatment is essential. 
What Is Gum Disease?
Gum disease, also known as periodontitis, is an infection that initially damages your gums. If left untreated, it can eventually affect the bones supporting your teeth. In turn, this could lead to loose teeth or teeth falling out.
Although gum disease is a common oral condition, it can typically be prevented with proper oral hygiene. Recognizing the signs of periodontitis, in addition to regular dental exams, is critical in reversing it.
Symptoms
The symptoms of gum disease can include:
Puffy or swollen gums
Easily bleeding gums
Abnormal colour—bright, dark red or purple, for example
Blood in your spit after brushing or flossing
Sore or tender gums
Pain in your teeth while chewing
Chronic bad breath
Pus between your teeth and gums
Loose teeth
Receding gum line
Changes in your bite or how your teeth look when they fit together
In the early stages of periodontitis, swollen, bleeding gums are typically the first warning sign that your teeth need extra attention.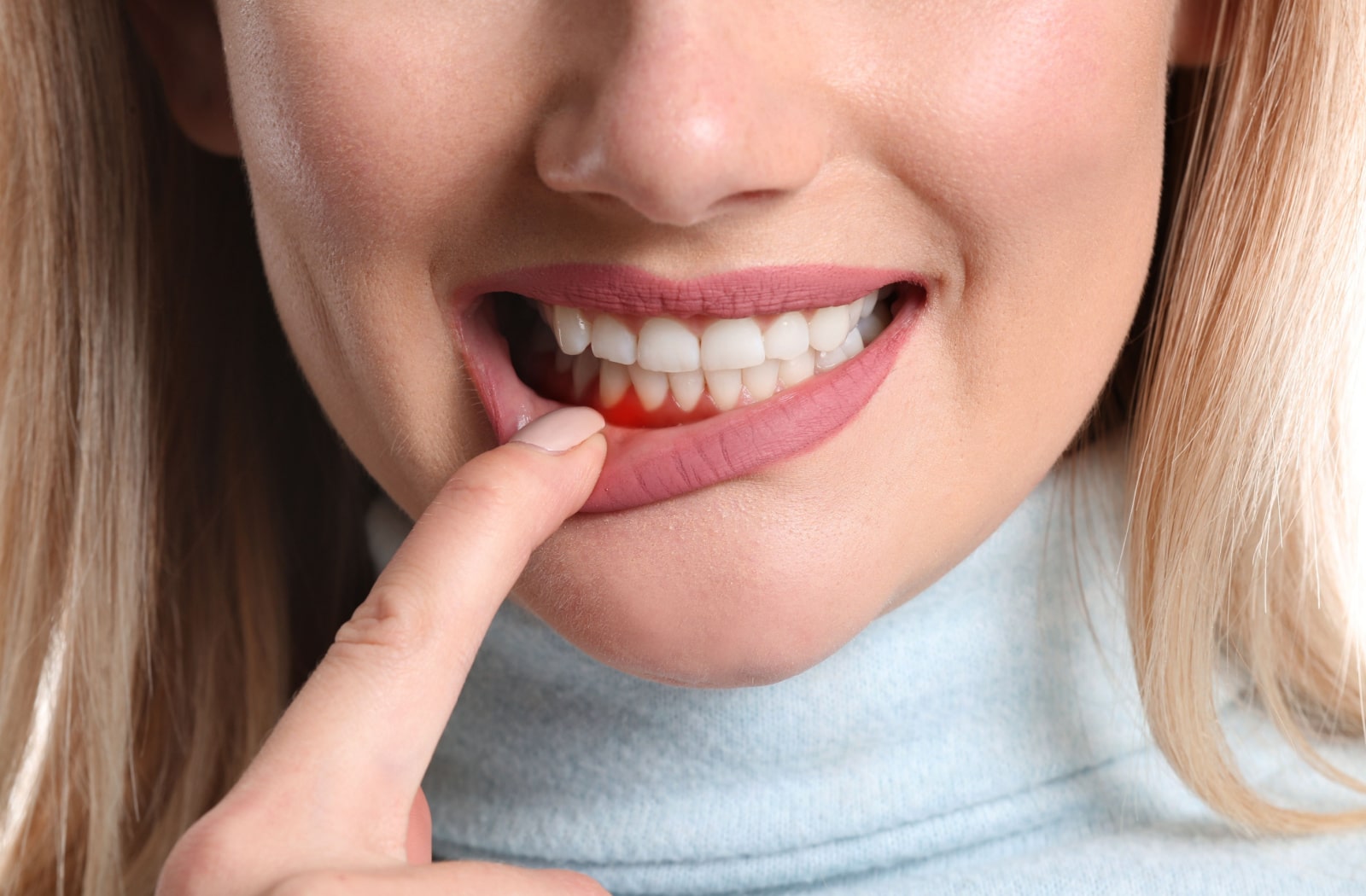 Reversing Gum Disease
Scientists have linked gum disease to several other troubling health conditions, such as heart disease, diabetes, or low birth weight, in addition to potentially resulting in tooth loss. Let's review several ways to help prevent and reverse gum disease damage.
Regular Dental Exams
One of the most critical tools in your overall oral health is seeing your dentist regularly. During a recall exam, your dentist can inspect your teeth for signs of gum disease. Additionally, they can check and make sure there are no other problems, like issues with your bite or tartar buildup that could lead to periodontitis.
Professional Cleaning
Professionally cleaned teeth aren't just a special procedure to make your teeth sparkle—although they just might. Professional cleaning is an essential part of your oral health maintenance. It often makes sense to combine a dental exam with a professional cleaning. Together your dentist and the hygienist make a complete team to care for your mouth.
Regular Oral Hygiene
While important, seeing your dentist every four to six months is only a part of caring for your mouth. Your personal care routine is the other part of the equation. Ultimately, your dentist can provide you with advice that's specific to you. But a good oral care routine typically involves brushing at least twice daily and flossing once.
Mouthwash can make an excellent addition to brushing and flossing to keep your mouth feeling fresh and clean, but it should never replace it.
Laser Periodontal Therapy
Laser periodontal therapy isn't typically a standalone treatment. Instead, it's often used with a traditional treatment, such as a professional cleaning (with scaling and root planing).
Once the infection travels below the gum line, simply cleaning—no matter how thorough—may not be enough. Your dentist can remove inflamed tissue from around the tooth's root to allow proper cleaning.
Although laser therapy is more invasive than cleaning, it's still less invasive than most traditional oral surgical procedures.
Oral Surgery
Severe or more advanced cases of gum disease may require oral surgery. Your dentist could recommend several surgical procedures depending on the exact nature of your case. Like any other surgery, you may have pre-surgery instructions, such as stopping certain medications or taking an antibiotic.
Recovery time can be more lengthy for many traditional oral surgeries compared to laser therapy. But as long as you follow your dentist's aftercare recommendations, your risk for complications is low.
Including Your Dentist in Gum Disease Prevention
It's easy to see the benefit of involving your dentist in your oral health when it comes to catching something like gum disease before it turns dangerous. But an often overlooked benefit of seeing your dentist is the education you can get.
Not sure what the best brush is for your mouth or which floss you should use? Our team can help you get all the information you need to keep your mouth clean and prevent gum disease. Contact us at Skypointe Dental today to make an appointment with one of our dentists.
Parenting has enough challenges without wondering when they should see various healthcare providers. Each child is a little bit different, but for a child's first dental exam, the Canadian Dental Association (CDA) recommends within 6 months of the first tooth coming in or by 1 year.
Once your child has seen your family dentist for their first visit, the dentist can advise you how often to bring them back. Let's take a quick look at dental exams for kids and why they're essential.
Dental Exams & Cleaning
The dentist may take a slightly different approach when performing a child's exam compared to an adult's, but the goal is still the same. They are looking for signs of decay or disease that could cause future problems.
Your child's dentist might even recommend a filling for a "baby tooth" if they find signs of tooth decay. A child's primary teeth could stay in their mouth until 12, and tooth decay cannot be allowed to remain that long.
When Should a Child Start Seeing a Dentist?
Based on the CDA's recommendation of a child's first visit being six months after the first tooth's eruption, the average child should see the dentist for the first time around nine months old. Even if they are slower to get their primary teeth, the association still recommends a first visit when the child turns one.
How Often Should They Go?
After your child begins seeing the dentist, the CDA recommends that they continue visiting the dentist every six months for a dental exam and cleaning. X-rays aren't typically needed every six months, especially in a child. But if your family dentist notices any potential issues, they may recommend x-rays.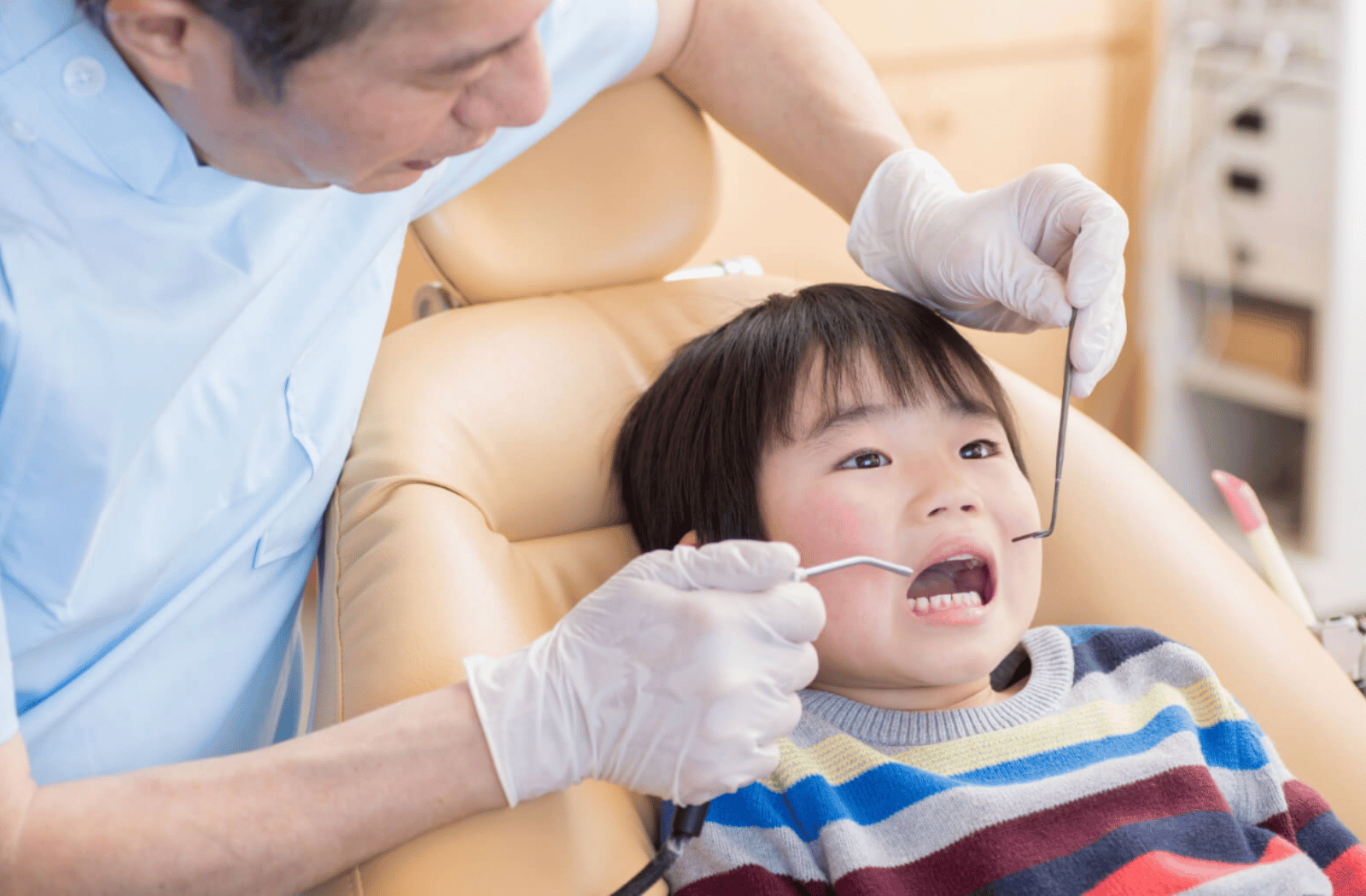 Importance of Regular Dental Visits
Dealing with tooth issues before they become problematic is a significant reason to see the dentist regularly. Let's look at a few specific reasons for your children to see the dentist.
Cavities
Cavities can happen. When your child's baby teeth start coming in, it's not always easy to clean them. It could be tempting to leave them because your child will lose those teeth anyway.
However, they could have those teeth for several years, and the tooth decay cannot be allowed to remain. But if your child sees the dentist throughout their childhood, the chances of the dentist catching tooth decay before it becomes a cavity is higher too.
Gum Disease
Gum disease, also known as periodontitis, is a common oral condition. Fortunately, gum disease can typically be dealt with by improving oral hygiene. Some common signs of gum disease include swollen and puffy gums, bad breath, or bleeding gums.
Seeing the dentist every six months is an excellent tool for preventing gum disease from progressing and leading to more severe complications.
Proper Oral Development
Your child's early years are filled with development in many areas of their bodies. Their mouths and teeth are no exception. But if something isn't developing correctly in the mouth, it may not be immediately noticeable.
Regular dental exams are a great way to ensure your child's mouth is developing as it should be. Your dentist can discuss any concerns you may have
Questions
When it comes to taking care of our bodies, we must rely on experts for information. Typically being a parent comes with a lot of questions. Seeing your family dentist regularly allows you or your child to ask any questions you have about taking care of your teeth.
Plus, helping your child build a relationship with their dentist benefits them later in life.
Book Your Child Their First Dentist Appointment in NE Calgary
When your child sees the dentist for the first time mostly depends on when their teeth start popping out. Our team at Skypointe Dental is ready to partner with you and ensure your child's mouth gets the best start in life possible.
Give us a call today and find out about an inexpensive first visit for you and your child that includes an examination, x-rays, and a medical and dental history review. Ask about our $1 Dental Exam!
Wisdom teeth removal can be a sensitive topic for some. The soreness and recovery time of wisdom teeth removal can have you on the sidelines for a few days. Your dental professional can help determine when it's time for you to get the procedure done.
While the initial soreness and discomfort can be challenging to manage, a big concern for many is how to eat after wisdom teeth removal.
Let's take a closer look at the wisdom teeth removal process, including aftercare and how to eat after the procedure.
Why Do Your Wisdom Teeth Need to Be Removed?
Wisdom teeth usually start making themselves known between the ages of 16 and 23. Wisdom teeth, known as the third molars, may need to be removed if they become impacted or trapped under the gum line.
Not everyone needs to have their wisdom teeth removed. Your dentist can help determine if there isn't enough room for the wisdom teeth to grow and recommend if you need removal to prevent development issues later in life.
Some common signs and symptoms of impacted wisdom teeth can include:
Red or swollen gums
Swelling in the jaw area
Jaw pain
Bad breath
Difficulty opening your mouth
Wisdom teeth may grow at an angle where they press into the second molars causing pain and potentially damaging your teeth. Impacted wisdom teeth can become infected, cause tooth decay or cysts, and cause pain if left untreated.
Wisdom teeth removal is a common procedure. During the procedure, you may be administered anesthesia, before your surgeon removes the impacted teeth, cleans the site, and adds stitches to promote healing if necessary.
The Recovery Process
The wisdom teeth removal process can often be completed in an hour with your oral surgeon or dentist. Your doctor may provide painkillers and instructions for post-surgery care as the wounds heal.
Your wisdom teeth removal procedure could leave your jaw swollen, leading to discomfort for several days. Wounds typically heal in 10 days to 2 weeks.
During that time, it helps to monitor your diet and what you eat.
Eating After Wisdom Teeth Removal
Everyone loves a good meal, but wisdom teeth removal may require a special approach to your diet. During the recovery process, it's helpful to populate your diet with soft foods and soup to promote healing.
Some examples of soft foods and liquids you can incorporate into your diet include:
Yogurt
Smoothies (without seeds)
Apple sauce
Mashed potatoes
Jell-O
Pudding
These foods require minimal chewing and may be easier on your teeth and jaw. Colder soft foods may also alleviate some soreness and discomfort while you recover. As the healing process progresses, you can slowly begin incorporating more solid foods.
Along with these foods you can add to your diet, there are some foods and liquids that you should avoid following wisdom teeth removal, like:
Alcoholic beverages
Acidic & spicy foods
Grains
Hard or difficult-to-chew foods like nuts or chips
It's also important to avoid brushing your healing wounds during your oral hygiene routine. You should also avoid cigarettes, vaping, and mouthwash to avoid the risk of infection. Saltwater is a good alternative if you want to rinse your mouth.
Putting Wisdom Teeth Removal Behind You
Some people may want to delay wisdom teeth removal, but it's a good idea to get it out of the way as soon as your dentist recommends it. Your comfort is key, and the wisdom teeth recovery process spans around 2 weeks. What you eat can help promote healing, and it's important to incorporate soft food and liquids to alleviate discomfort.
Book an appointment with the team at Skypointe Dental to have a complete exam and see if it's time to schedule your wisdom teeth removal.
It can be difficult to tell if a tooth requires a root canal because many of the symptoms can only be detected by a dentist. This is why it's important to visit your dentist on a regular basis.
Root canals are used to save teeth that have become badly decayed or infected. When the pulp of the tooth, which is made up of blood vessels and nerves, is damaged, it must be extracted and the inside of the tooth cleaned and sealed.
Your dentist will look for the signs, whether during a routine dental exam and cleaning or in the event of a dental emergency. There are several causes and warning signs that you may need a root canal sooner rather than later.
Persistent Pain
Constant pain is one of the signs that you may require a root canal. This would be pain that bothers you all of the time or that goes away but returns.
You may experience pain in areas other than your tooth, such as your:
Face
Other teeth
Deep within the bone of your tooth
Tooth pain can indicate a variety of problems, including:
Damaged filling
Cavity
Pain transferred from a sinus infection
An infected impacted tooth
Gum disease
If you experience sudden pain, it's likely that you have an infected or dead tooth that requires a root canal.
Are there any positions where your gums or teeth hurt the most? Is there pressure on your teeth and face when you lie down or bend down? This could be root canal discomfort. In any case, if you are experiencing persistent pain, you should consult your dentist.
Tooth Discolouration
A discoloured tooth is usually the result of poor hygiene or food and drink staining, but it can also be caused by nerve damage beneath the tooth's surface. Trauma to the tooth or breakdown of the internal tissue can damage the roots and cause the tooth to appear grayish-black.
If the root of your tooth is damaged, your dentist will most likely recommend a root canal to remove it.
Swollen Gums
Swollen gums near a painful tooth can indicate a problem that necessitates a root canal. The swelling may be intermittent. It may also be tender to the touch.
Swelling typically indicates that blood flow between your jaw's vessels and the pulp chambers of your teeth is disrupted. If the vein junctions are blocked by infection, the swelling will become more noticeable as you feel it in your mouth and along the point where your gums meet your jaw.
Pimples on Your Gums
Pimples on your gums indicate the leakage of infected fluids into the gum tissues from near the root. If you see these, it could be an advanced form of the infection, such as an abscess. A root canal may be your only option for preventing the infection from spreading.
Tooth Sensitivity
Tooth sensitivity is another common indication that you may require a root canal. This is a problem if your tooth aches when you drink hot drinks like coffee or tea. What begins as a dull ache can quickly turn into a sharp, intense pain.
Cold foods and drinks can also be extremely painful for people who have an infected tooth. Damaged blood vessels and nerve endings may be to blame when you consume ice and avoid crunching on one side of your mouth to avoid a painful tooth.
Your dentist may determine that a root canal is required to treat your sensitive tooth.
Loose Teeth
When you have an infected tooth, it may feel looser than your other teeth. This can be caused by factors other than pulpal necrosis (nerve death), but it can be an indication that a root canal is needed. Acidic waste products from nerve death can soften the bone around a dying tooth's root, causing it to move.
Cracked or Chipped Tooth
When a tooth cracks or chips, the nerves beneath the surface of the tooth can become exposed and infected. A root canal may be required to prevent further infection and pain if left untreated.
If you have a broken tooth, you should see your dentist right away to ensure that it's repaired before things get worse.
Even if you injure a tooth but it doesn't chip or crack, the injury may still cause nerve damage. The nerve can become inflamed, resulting in pain and sensitivity that may necessitate root canal treatment.
Talk to Your Dentist about a Root Canal
Keeping up with your oral hygiene at home and scheduling regular dentist appointments at least twice a year is a good way to maintain your oral health. An infection in the pulp and root of your tooth can cause discomfort and pain.
If you have persistent tooth pain or other symptoms, make an appointment with SkyPointe Dental for a professional diagnosis.