Veneers are a terrific option to create the smile of your dreams since they are composed of a specialised material that is made to fit over the teeth. This material is durable and is made to look remarkably natural, so no one will even know they are veneers.
They are thin, tooth-coloured shells that must be bonded to the tooth's surface using cemented dental materials. Various cosmetic issues can be treated with veneers, such as chipped, cracked, discoloured, or smaller-than-average teeth. 
When a tooth is cracked or chipped, some people may only need one veneer, but many people need six to eight veneers to get a uniform, symmetrical smile.
Dental veneers need extensive prep work and are often composed of porcelain or composite resin. However, "no-prep" veneers are also available and use a different application method.
Should You Get Veneers?
If you've been unhappy with how your smile looks in the mirror, you might be exploring dental veneers as a solution.
They're not the best option for teeth with significant damage. In some instances, crowns are probably a better choice. However, veneers could be a wise choice if your teeth are chipped, discoloured, fractured, or smaller than you prefer.
Additionally, you should ask your dentist if insurance will pay for veneers.  Veneers may be viewed as a cosmetic procedure and may not be covered depending on the circumstances.
Discuss the best route with your dentist based on your needs, price range, and desired appearance. 
After the procedure is through, you can instantly begin smiling. You won't have to worry about missing a lot of work because your dental veneer surgery requires two appointments.
Types of Veneers
Porcelain Veneers
The most aesthetically pleasing and safest material for dental restorations is porcelain. Of all the veneer materials, it is the toughest and most durable.
Because porcelain laminate veneers are highly biocompatible, they rarely cause harm to the soft tissues that surround the gums and other oral tissues. Because porcelain has a very natural appearance, these veneers can dramatically enhance the look of your smile.
The insertion of porcelain veneers necessitates some tooth shaving.
Composite Veneers
Composite resin, a blend of organic and inorganic components, is used to create composite veneers. The coupling agent, resin, and the initiator are the natural components, while the filler is the inorganic component.
Veneers made of composite are less expensive than those made of porcelain. Although they blend in reasonably well with your natural tooth colour, they do not last as long and are susceptible to stains. 
These veneers also require some tooth shaving before application.
Are Veneers Permanent?
Veneers may be composed of strong dental materials that are bonded together, but they are not indestructible. With regular maintenance, porcelain veneers should last between 10 to 15 years. Factors that contribute to the lifespan of your veneers include:
Your teeth's condition before placement.  Some dentists believe that the condition of your teeth before having a veneer can affect how long it lasts.
Veneer type. Composite veneers are less durable than porcelain and no-prep veneers.
Your oral health. Maintaining good dental hygiene is essential. Regular flossing and twice-daily brushing are necessary for extending the life of veneers. Additionally, you should attend regular dental exams and have cleanings every six months.
Mouth protection. Wear a mouthguard if you play a contact sport to prevent your veneers from breaking or chipping.
Veneers may require cosmetic repair or a complete replacement, depending on the type of wear or damage they sustain. It's your responsibility to take care of them to maximise their lifespan.
What can reduce the lifespan of your veneers? The same ones that can harm your natural teeth!
Avoid chewing on hard things like ice, pencils, or your fingernails.
Never open packages with your teeth.
Avoid using your front teeth while chewing. Eat tougher meals only with your back teeth; chop tough items into smaller pieces to make this easier.
Wear a retainer at night if you are grinding or clenching your teeth
Learn More About Veneers in NE Calgary
The greatest way to get the smile you want might be with veneers, but they still require regular maintenance. Using them as an excuse to forego practicing good dental hygiene could result in costly repairs or coverings that deteriorate prematurely. 
How durable are veneers? If you take good care of them, you can use them for more than ten years. Book an appointment with Skypointe Dental today to discuss your options to create the smile you want.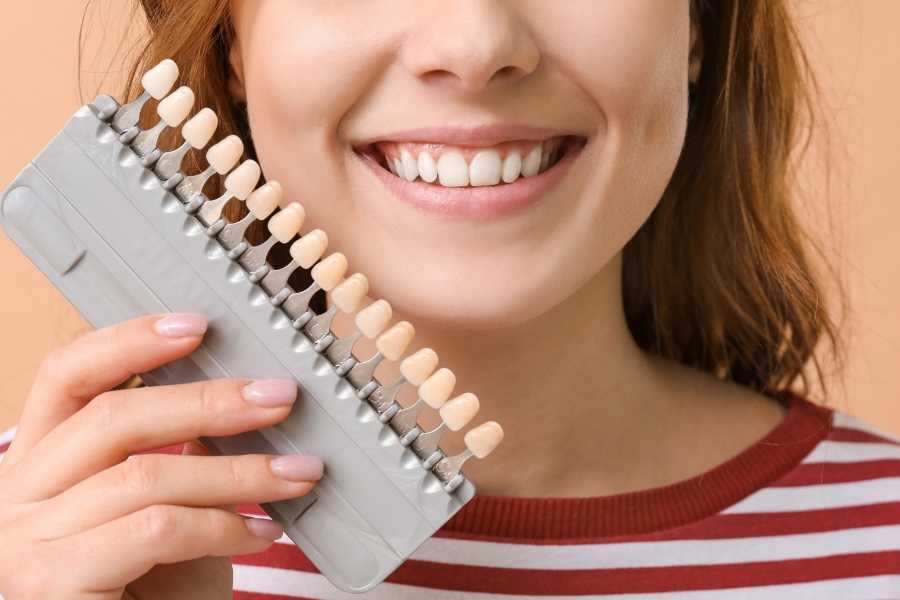 Upgrading your smile doesn't have to cost you an arm and a leg
In fact, it can actually be affordable if you choose dental veneers as your treatment of choice. If you want to feel more confident in your appearance but don't want to take out loans to pay for expensive cosmetic treatment, SkyPointe Dental in Calgary NE can provide affordable dental veneers that will keep your natural teeth intact and help you achieve the pearly white smile you've always wanted.
Dental veneers are thin shells of porcelain that are bonded to the front of your teeth, to improve your smile. Veneers can improve both the look and feel of your teeth, by making them straight and uniform in size, shape, and colour.
Who Can Benefit from Dental Veneers? You may be eligible for dental veneers if you're missing teeth, or if your teeth are stained or crooked but you want to keep them intact rather than extracting them and getting dentures or dental implants.
Why choose dental veneers?
Dental veneers can be used to correct any type of cosmetic or structural problem with your smile, such as misaligned teeth, gaps between teeth and chipped or stained teeth. But another important reason you might consider dental veneers is that they are one of very few procedures that you can get done on a Saturday! That's right—no waiting until Monday to schedule your appointment and no taking vacation time off from work.
You'll be able to start smiling immediately after your treatment is completed. And because it takes just two appointments to complete your dental veneer procedure, you won't have to worry about missing too much work. Plus, our friendly staff will make sure you feel comfortable throughout both appointments.
To learn more about affordable dental veneers and other great services we offer at SkyPointe Dental in Calgary, contact us today. We look forward to helping you achieve a beautiful new smile!
Are Dental Veneers Affordable at SkyPointe Dental?
Many people wonder whether dental veneers are affordable. At SkyPointe Dental in Calgary NE, dental veneers can be ... well quite affordable! The Price-Result balance is simply great. And, get beautiful results in the least amount of time. Imagine this: Your smile will improve. Your confidence will improve. And your attitude towards life will improve. Because when you start smiling, the whole world will smile back.
Choose dental veneers at SkyPointe Dental in Calgary NE when you need some cosmetic dentistry done for your smile improvement.
Don't have the budget yet to have all your teeth done at once? Dental veneers can be done one at a time! You decide which tooth/teeth come(s) first. Dental veneers are a perfect solution for a smaller budget because they won't cost you an arm and a leg.
Make an appointment for affordable dental veneers at SkyPointe Dental in Calgary NE.
How Do Dental Veneers Work? Here's The Procedure
The day of the procedure, your dentist at SkyPointe Dental will remove a small bit of enamel from each tooth to create a space for the veneer to adhere to and not impede the patient's bite. After that, a putty mould is created of the teeth with that layer of enamel removed. We can have the veneer impressions created in-house with special 3D mapping technology.

The tooth-coloured veneers are made of plastic resin and bonded over tooth surfaces using porcelain bonding agents. The veneer will be placed on your tooth to examine its fit and colour, repeatedly removing and trimming the veneer to achieve the proper fit, before permanently cementing it to your tooth. The veneer colour can be adjusted with the shade of cement to be used.

After treatment, your dental veneers will look real and feel perfectly real. Just like real teeth! Photos will be made before and after treatment so you can see the difference in all its glory. If you want to know more about how do dental veneers work, contact SkyPointe Dental in Calgary NE for more information on cosmetic dentistry procedures available in your area.
Are There Any Dental Veneers Risks?
Although veneers are extremely affordable and fast to get, there are some things you should keep in mind before you commit to a dental veneers procedure. You'll need to practice a regular dental care routine, as veneers don't protect your smile from tooth decay. While it's true that veneers will help correct many problems with your teeth, such as colour and shape issues, some risk could be involved when removing tooth enamel prior to applying veneers onto your teeth. When you want to learn more about this, please ask us for more information.
It's important to note that not all dental insurance companies cover procedures related to cosmetic dentistry or dental veneers or dental implants, specifically. So make sure you check with your insurance before you make an appointment.
Consider Dental Veneers at SkyPointe Dental in Calgary
When you're ready for dental veneers, make an appointment today at SkyPointe Dental. We will provide you with a new smile you won't regret!